SPL Receives Continuing Education Product of the Year Award from the Project Management Institute®
---
SPL received the Project Management Institute's Continuing Education Product of the Year Award for SimProject®, our online project management simulation for colleges and universities. The purpose of this award is to recognize exceptional professional development instruction and training materials for project management students, trainees or practitioners. SPL was recognized at the North American PMI Global Congress on October 20th in Vancouver, BC.
Dave and Lori Tillery (a very productive and successful husband and wife team) were responsible for all of the online simulation design, development and support work. They deserve the majority of the credit for SPL earning this prestigious award.
---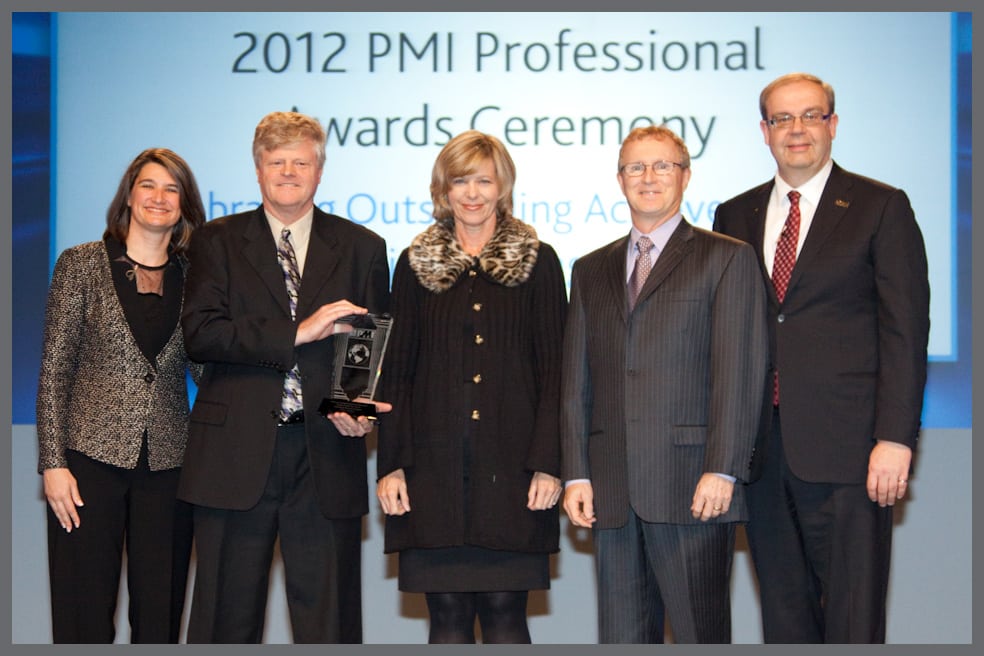 From the left: Deanna Landers, PMI Vice Chair; Dave Tillery, SPL Developer; Lori Tillery, SPL Developer; Jesse Freese, SPL President; Peter Monkhouse, PMI Chair
We are very excited about our new online simulation technology, SimProject, and obviously this wonderful recognition and award. Thank you to everyone who helped us win this award.
---
SimProject® is our online computer based simulation used by academic institutions around the world as the experiential learning piece of their project management curriculum. At the core of SimProject® is a virtual project called the Alliance Prototype Project, which has 7 to 9 tasks and ten potential team members. Students plan and execute the project as the project manager; making weekly staffing, tasking, stakeholder, individual and team related decisions. They experience managing a real life project from beginning to end. SimProject® can be given as homework for students (individual or teams), or utilized as a classroom activity with teams of students sharing the role of project manager.
I used the online SimProject shortly after its release in September 2011 in our MBA Project Management course. Repeatedly, students experience "aha!" moments when they experience the impacts of their decisions on the project's time, cost and quality results. I cannot overstate the importance of this simulation in their learning.

Prior to using the simulation, students' contributions to class discussions are often generic and theoretical. Once they've delved into the simulation, they begin to speak as if they were a project manager and their discussions center on specific issues.

For example, they understand the importance of stakeholder communication. However, when they overlook a communication opportunity and suffer the inevitable consequence, they really get it. I can see it in their eyes, hear it in their voices, and read it in their subsequent work. There are many such examples, where the simulation affords students an effective means to achieve a deeper level of learning.Professor Laurie Schatzberg, University of New Mexico
PMI, PMP, PMBOK and the PMI Registered Education Provider logo are registered marks of the Project Management Institute, Inc.